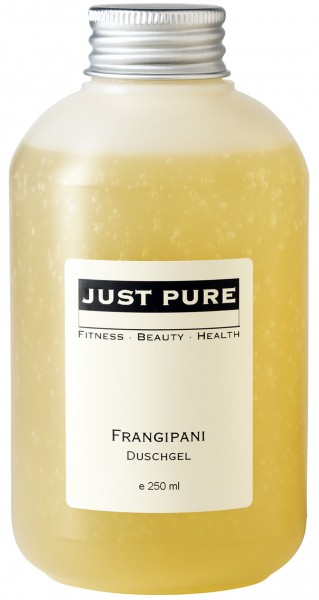 Fruity fresh shower gel for every day and skin type Rainforest deforestation – not a thing...
more
Product information "FRANGIPANI SHOWER GEL - free of palm oil!"
Fruity fresh shower gel for every day and skin type
Rainforest deforestation – not a thing for us! Therefore we use exclusively shower gels and shampoos without palm oil, but tensids deriving from re -growing, alternative raw materials.
Our statement : forest instead of deforestation! Because no fire is caused by nature itself. Thus every year in the Amazons region hundreds of fires plague the area. Reason is the greed for palm oil. Millions acres of burned land, huge amounts of environmental hazardous CO2 freed in the atmosphere. The fires in Indonesia and Brazil represent an environmental crisis without end at sight. The smoke make people and animals sick, takes away air to breathe, as year by year poisonous fogs lay on the Amazonas and entire landscapes.
Main responsible is the palm oil industry. But only a few know. By purchasing products based on palm oil the thread increases even more for the last remaining rain forests. Species like the native Orang Utan, the Sumatra tiger or the bird of paradise lose their habitat. Orang Utan are among the most endangered species.
Please be awre of these facts when purchasing shower gels and shampoos, and check if for the production exclusively palm oil free tensids - thanks for your support!!
Product Information: with cold pressed macadamia nut oil from controlled organic cultivation. As we do not use chemical additives, it is also suitablefor very dry and sensitive skin. Refreshes and revives the senses with a fruity fresh scent of frangipani, bergamot and oranges.
Frangipani blossoms are considered to be best smelling and most beautiful blossoms of the Tropical region. In Thailand, frangipani blossoms are considered symbol for immortality and are offered to the gods. Natural, essential frangipani oil is very expensive. Its sensual scent has a aphrodisiac effect and its flowery, tropical fragrance promotes a touch of exotic to the daily routine. Its believed that this essential oil is extraordinary high in caring substances and is therefore com-monly used as additive tool in skin care. This precious oil is rumored to have especially caring features as additive in skin care products.

Fragrance: fresh with a tangy note
| | |
| --- | --- |
| Moon: | For any Moon Phase (daily care) |
Related links to "FRANGIPANI SHOWER GEL - free of palm oil!"
Available downloads:
Read, write and discuss reviews...
more
Customer evaluation for "FRANGIPANI SHOWER GEL - free of palm oil!"
Write an evaluation
Evaluations will be activated after verification.